Bridesmaid dresses are tricky.
Not only do you have to find dresses that you, as a bride like, and match the style and colors in your wedding, you also have to be mindful of the budgets, body types, and personal comforts of your bridemaids. A tall order, to say the least. When you are asked to be a bridesmaid in a friend or family member's wedding, you accept the inevitable of paying a lot of money for a dress you likely will never wear again. Its part of supporting your friend and their wishes, knowing you will someday be put in the same position. I was a bridesmaid for a good friend, who picked beautiful bridesmaid dresses. The color was sort of a raspberry/watermelon, the cut was a fitted bodice and flowy on bottom. It was perfect for a summer wedding. She also negotiated a discount on the dresses, so they weren't quite as crazy expensive. She did everything right, and as a bridesmaid, I completely appreciated it.
The only problem is the dress just did not work well for my body. While it looked flattering on all of us ladies, I was missing a key element to this dress: boobs. Without boobs to fill out and hold up my dress, I had to have the tie up corset portion of the dress pulled so tight I had a hard time breathing. It looked beautiful and fit the bride's vision perfectly but the beauty came at the expense of a little pain. The dress did find a good home with my friend Evyan, who happens to have the boobs necessary to make it look and feel fabulous, so it will live a happy life with its new owner, who will give it a wonderful home in her closet. When I became a bride a few months later, I realized what a challenge she faced. There was nothing I was loving that wasn't super pricey, so I decided to go the mismatched bridesmaid dress route. I found some inspiration on Pinterest:
source
I had faith in my ladies that they could find dresses that fit the bill, as they are all stylish and beautiful. Unfortunately, I was getting feedback that they were having a difficult time finding what I was asking for. I didn't want finding a dress to be an additional burden on them.
A couple of weeks ago, my mom and I went to Orlando for a Christmas Shopping weekend. We were in the Mall at Millennia and decided to stop into Anthropologie. I spotted a dress that was the perfect soft blush pink, and also had an adorable, slightly vintage feel. I asked my mom to try it on, since she was looking for a dress as my Maid of Honor. She put it on and lo an behold the dress was perfect! Not only was it my style (which tends to differ from my mom's) but it also was flattering on her body. She decided to purchase it, but at $200, I didn't feel comfortable asking my other bridesmaids to buy it.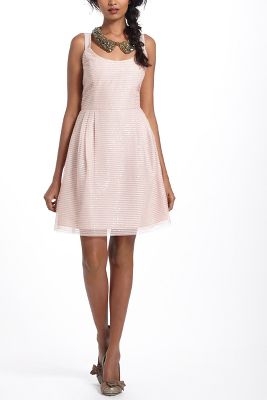 The next Monday, I was talking to a coworker about the dress, and decided to pull it up from the Anthropologie site to show her. Amazingly, in the 2 days since my mom had purchased the dress, it had gone 50% off. The dress was now $99!!!!!!!!! I quickly called my mom, who was able to get a price adjustment through the store. I also called all my bridesmaids, and got their okay to get the dress. I felt the price was way more reasonable and was so happy to have found a dress I truly loved. I ended up ordering one for myself and it came in just in time for our engagement pics, so I wore it for them.
I am super excited and grateful for such a fantastic find!
Brides: did you have a difficult time picking out your bridesmaid dresses?
Bridesmaids: how did you feel about the dresses you've been asked to wear in various weddings?